Congratulations on completing your assessment! Your sustainability journey continues beyond this point. This article outlines some essential steps you can take after receiving your scorecard to continue your progress toward sustainability.
Useful Resources
The Useful Resources menu contains materials to help you understand your company's sustainability performance, promote your company's score and know how to improve it in the future. It also provides detailed information about the EcoVadis assessment process and the methodology applied by our Sustainability Analysts.
This section can be found by going to the main menu directly or inside the questionnaire:
On the Useful Resources menu:
Go to www.ecovadis-survey.com/app/.
Log in using your username (your email address) and password. Go to the Useful Resources menu on your left side.

The materials are organized into four tabs:
Share My Performance* (available only to Premium/Select/Corporate subscribers) - find detailed information about your company's sustainability performance along with tools to promote it among your trading partners:
EcoVadis Assessment - find materials to help you learn more about our assessment process and methodology and how to make the most of it:
Sustainability Guidance* - find expert advice on how to improve your company's sustainability performance:
Sustainability Glossary - find key sustainability terms. Use the search bar or browse the A-Z glossary to find definitions.
*Note: Please note that if your company's scorecard has not yet been published, these sections will not be accessible.
On the questionnaire:
Click "Enter questionnaire" in your Dashboard.
Click on Useful Resources on the left side.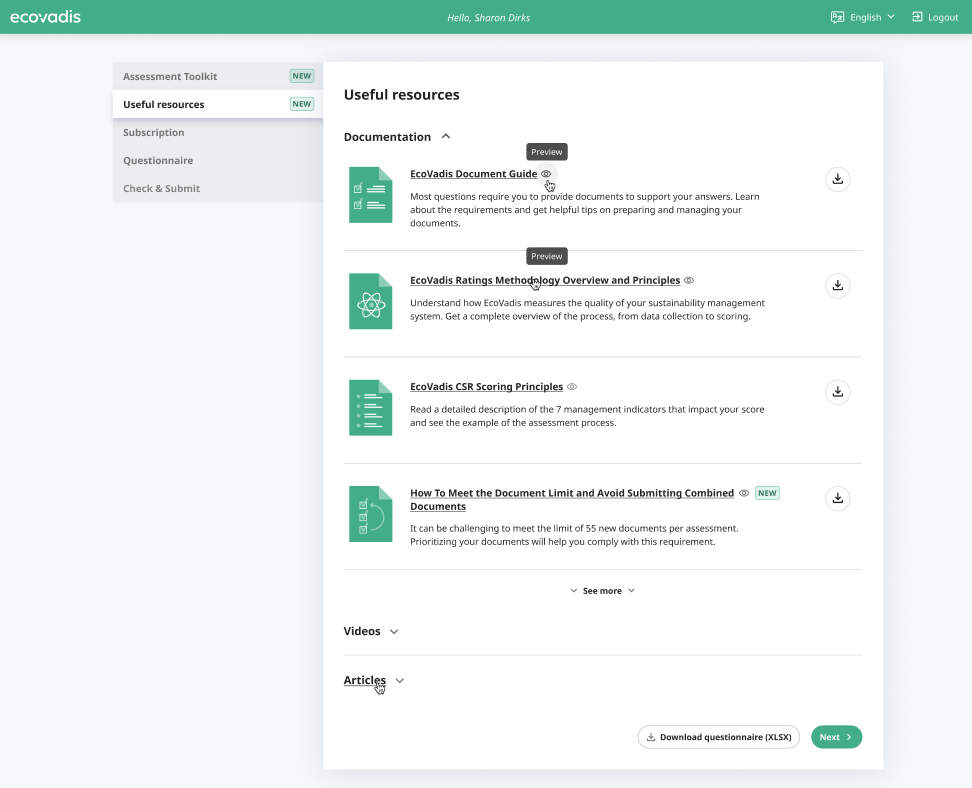 How-to guides
Information and guidance boxes also store downloadable EcoVadis how-to guides, which are a series of short and practical e-books providing you with further guidance on specific sustainability topics. Each guide addresses a particular improvement area on the scorecard, explaining the importance of the subject and the management indicator (e.g., policies, endorsements, measures). There are also concrete examples and best practices for developing your policies, actions and reporting results for particular sustainability topics.
These guides can be found on the Useful Resources menu mentioned above.
Corrective action plan
To embark on a continuous improvement journey, you can use the Corrective Action Plan feature to work on improvement areas and collaborate with your trading partners. Learn how to use the Corrective Action Plan to build your improvement plans.
Sharing your scorecard with trading partners
You may proactively share your company's sustainability performance with multiple trading partners through the EcoVadis platform. By doing so, they will gain access to your complete sustainability profile. Click here to learn more.
Promote your EcoVadis Ratings
The EcoVadis Communications Kit for Rated Companies is designed to help you get the most value out of your EcoVadis Rating by communicating your achievements internally and externally.
The guide includes several customizable templates and resources for promoting your results. Click here to access it.
EcoVadis Academy
The EcoVadis Academy contains courses designed to help EcoVadis customers learn about and improve their sustainability management practices. The course material covers policies, actions and reporting across the four sustainability themes and broader topics such as training, certification, risk management, and more. Click here to learn more.
Training Partners Program
As a rating agency, EcoVadis cannot provide direct consulting services. However, if you are seeking more ways to understand, respond and improve your EcoVadis score, take a look at the Official Training and Consulting partner program at https://ecovadis.com/training-partners/.
Starting a reassessment
The EcoVadis Scorecard is valid for 12 months after the publication date. Sustainability best practices are constantly evolving, and an annual assessment provides you and your trading partners with insights into the improvements you implemented within the previous year. Expired scorecards cannot be shared with new requesting companies. After 12 months from your last assessment, new sharing requests your company receives will trigger a reassessment process.
Here are a few examples of when a company may choose to initiate the reassessment process:
If their scorecard has expired;
If they have not met their trading partner's minimum score requirement and have been directed by their trading partner to be reassessed;
If they have additional documents and information that should have been provided during the previous assessment.
Once ready, you can start your reassessment on the EcoVadis platform. Click here to learn more.