Metrics is a dedicated module on your EcoVadis Ratings platform. It contains self-reported quantitative information on your sustainability and carbon performance. Examples include:
Energy consumption in gigajoules (GJ)

GHG emissions in tonnes of CO2e

Waste generation in tonnes
The Metrics module is available irrespective of your level of subscription, your company's size or industry. You can find it on the My Performance page in the Metrics module.
View of the Metrics module on the EcoVadis platform.
This article is aimed at rated companies and provides a general overview of what metrics are.
Other articles in this section will guide you through the following topics:
If you are a requesting company, refer to the section about requesting metrics from your partners.
What metrics can I report on?
You can report on the following metrics:
EcoVadis methodology
These metrics are relevant to your company's size, industry and location as per the EcoVadis methodology. This means that you are unable to create new metrics on your own.
You can choose to view all EcoVadis methodology metrics or filter for sector-specific metrics that are tailored to your industry. Turning on the toggle allows you to view only the metrics that your trading partners have requested.
Check the list of all and sector-specific metrics.
Standards and regulations
To assist you in showcasing your adherence to sustainability reporting standards and regulations, we have prepared sets of metrics that align with major international frameworks: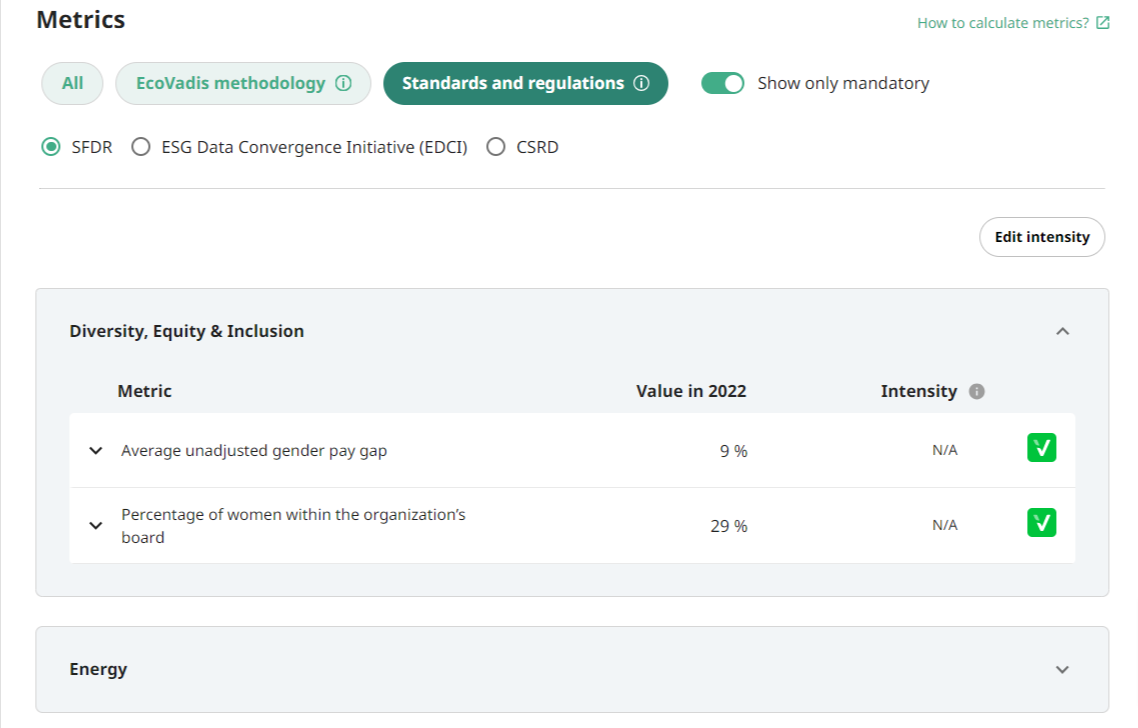 This saves you time and effort: you only need to fill in a metric once, and we'll populate it across all applicable standards and regulations. You can showcase your adherence to these standards and regulations to your partners without filling out additional forms.
How to report on metrics?
You can report on metrics in 2 ways:
When answering the questionnaire, you'll get some questions where you need to report on selected metrics.

(Independently of the questionnaire process) By entering values on your

Metrics

module on the

My Performance

page.
On the EcoVadis platform, you can edit the values imported from your questionnaire or fill in the empty metrics at any time. Learn more about how to fill your metrics
Who will see my metrics?
You can either keep your metrics private or share them with your trading partners (recommended option).
If you share your metrics, all trading partners in your Network will see the metrics' values and their intensity. However, they will not see additional parameters such as your company's revenue, input materials volume or production weight.
Apart from your trading partners in your Network, no one else will see your metrics. Learn more about how EcoVadis ensures the security of your data.